Indicators for MT4 / Indicator ClusterOpenClose
Indicator of simplified cluster volume
In terms of exchange trade a cluster of volumes is considered to be a visual digital distribution of volumes for the certain time period (specified by the timeframe) all over the candlestick. First the volume appears, the buyer meets the seller and there is a stock-exchange deal (certain volume for the certain price) and then the exchange fixes it as a tick. Tick influences the price move and this move visually can be observed as the candlestick. The total of all volumes for each price within the candlestick displayed on the screen is the cluster of volumes. Due to the range of technical reasons and terminal limitations The MetaTrader ClusterOpenClose indicator displays three values: the total of volumes: in real body of the candlestick and in the upper and lower shadow of the candlestick. Thus this will be the prototype of the cluster - its simplified version. Nevertheless even in such a way big volumes in the shadows of the candles give a strong signal at the end of the trend about its over. For more details about splashes and infusions of volumes please click the description of indicators PremiumSplash and PremiumInfusion.
ClusterOpenClose indicator in the package Standard uses system libraries the disadvantage of which is "slowing down" in the process of data receiving. This indicator is not supported by the ClusterDelta_Server
In addition you can use the ClusterDelta Online platform to look trough the history for more than 3 years. In addition the indicator shows the cluster only on timeframes from M1 to H1 inclusive.
Description of indicator parameters: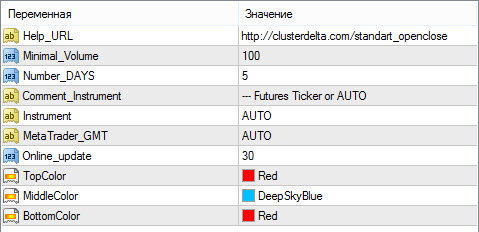 HELP_URL (the default value is "http://my.clusterdelta.com/standart_openclose") is a text comment with a link where you can find a description of the indicator settings. It has no effect on the indicator.
Minimal_Volume (the default is "0") - the minimal volume displayed on the screen
Number_Days (the default value is "5") - the number of days for which the data for the indicator should be downloaded.
Comment_Instrument (the default value is "--- Futures Ticker or AUTO") - this is a text comment, it has no effect on the indicator.
Instrument (the default value is "AUTO") - as many dealing centers (DCs) within the same instruments can use different tickers names this parameter allows you to specify the name of the ticker from which the data will be imported. If the value is "AUTO" the server tries to identify the required ticker analyzing the name of the instrument from the DC.
MetaTrader_GMT (the default is "AUTO") - - as each DC individually sets the data server to display data correctly in the indicator you should specify the time zone of the DC server. Unfortunately, there are no built-in methods for this parameter determining, so in the AUTO mode the server compares the time of the last quotation of the client. During weekends and trade breaks manual setting of this parameter is recommended.
Online_update (default value is "30") - the indicators of the "Standard" package use only the session method of data receiving. This parameter sets the update rate in seconds.
TopColor (the default value is "Red") - the inscription color in the upper shadow of the candlestick
MiddleColor (the default value is "DeepSkyBly") - the inscription color in the real body of the candlestick
BottomColor (the default value is "Red") - the inscription color in the lower shadow of the candlestick